Wing Lung Bank International Institute for Business Development
2017 IIBD International Case Competition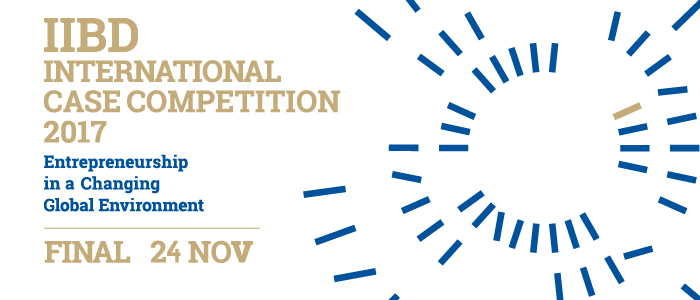 The final round of the competition will be held on 24 November 2017 from 14:30-19:00 at WLB109, Shaw Campus, Hong Kong Baptist University. Register as the audience now to support the finalist teams (this event is CCL recognised).
Audience Registration
Theme
Entrepreneurship in a Changing Global Environment
Objectives
To strengthen internationalisation through the enhancement of student and faculty networks, both social as well as professional.

To test students' creativity and problem-solving ability by working under pressure to solve a real world business problem, which highlights the strategic challenges and managerial dilemmas.

To

better prepare

students to meet the challenges of a rapidly changing global business environment.
Eligibility
All business students from universities around the globe are eligible.

Each university will nominate ONE team and each participating team must consist of not more than 4 members, with not more than one of them being a graduate student.

Students of the same team must come from the same institution at the time of application.

Each team should be supervised by a faculty supervisor.

The hosting institution will be eligible to have one team in the final round of the Competition.
Awards
Gold Prize
USD1000 + Four round-trip air tickets between Hong Kong to all destinations served by Hong Kong Airlines
Silver Prize
USD500
Bronze Prize
USD300
Best Presenter
USD100
Ateneo De Manila University, The Philippines

Australian National University, Australia

Erasmus University Rotterdam, The Netherlands

Hong Kong Baptist University, Hong Kong

Singapore Management University, Singapore
First Round
All participating teams will be assigned a case on 20 June 2017.

They have to submit the case analysis report by 30 June 2017.

The report should be within 10 pages plus a 2-page Executive Summary based on the case, excluding appendixes.
Evaluation Criteria
Identification of Problems

Analysis

Quality of Recommendations & Alternatives

Implementation and Plan of Action

Report Format and Writing Style

Final Round
Five finalist teams will be chosen to enter the final round of the competition on 24 November 2017 in Hong Kong.

The finalist teams have six hours to research, analyse, develop a set of action plans, and make recommendations to a business case.

They have to deliver presentations for judges.
31 May 2017

Deadline for application

20 June 2017

"First-round" case assigned to all participating teams

30 June 2017

Deadline for submission of analysis of "First-round" case

15 September 2017

Finalists chosen by Organising Committee and notified

24 November 2017

Final Round of the Competition at Hong Kong Baptist University
Accommodation for Finalists
Enquiries
Tel: 852-3411 7855
Email: iibd@hkbu.edu.hk
We thank our sponsors